| | |
| --- | --- |
| Posted on August 14, 2019 at 11:20 AM | |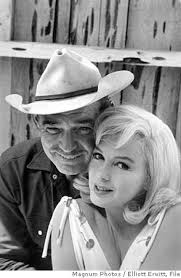 The Misfits (1961)

The first movie in our new series is one left over from the Clark Gable Series: The Misfits.
Gable felt honored to be offered the part. He considered it an "intellectual" script - a western but not a western. Arthur Miller, who wrote the screenplay, did not initially like the idea of casting Gable, but once he met with Gable, he said that he came to realize that Gay (the main character) was Gable, or Gable was Gay.
Gable died shortly after filming finished. He saw the cuts and said that he thought it was the best thing he had done since "Gone with the Wind."
 Join us for a lively discussion of the screenplay and the movie on Monday August 19, 2 PM, at the St. Simons Public Library. We will be showing the film August 21, 2 PM, Free.
Burt Lancaster
The Fall Series focuses on the movies of Burt Lancaster. "The Killers" is Lancaster's first film. "The Rose Tatoo" is based on a play by Tennessee Williams, and "Elmer Gantry" is based on a novel by Sinclair Lewis.
Lancaster got his first role in a play because he was noticed on an elevator wearing his uniform from WWII. He worked entertaining troops in Italy during the war. Get the best stories, most interesting details in our series starting in September.
 
Categories: None