| | |
| --- | --- |
| Posted on June 23, 2019 at 11:00 AM | |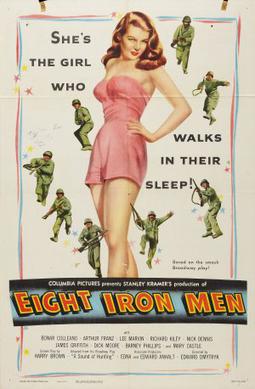 While doing research on Burt Lancaster I ran across this story.
Soon after Lancaster returned from the war (where he had spent most of his time in Italy entertaining troops) he went, still dressed in his uniform, to see the girlfriend he had met when overseas. She worked for a radio company in New York.
Lancaster was so striking and impressive, a man who happened to be in the elevator asked if he was an actor. "A dumb actor," Lancaster replied, using a term common in the circus world for a performer that doesn't speak, like an acrobat, which Lancaster was. The man took it as a joke and followed Lancaster.
When he caught up with him, he asked Lancaster to try out for a play opening soon on Broadway. Lancaster had done some acting before the war and a lot of performing. He also needed a job. And, the play was about service men trapped in a bombed-out town in Italy. The character Burt was to play had a choice of whether to buck higher ups and risk the lives of his men to save a comrade who was trapped in enemy territory. It was a play that fit Lancaster like a glove. He had been a soldier, and one who didn't always get along with the brass, and he had been in Italy. He accepted.
The play "The Sound of Hunting" (written by Harry Brown) opened on Broadway in 1945. Unfortunately, audiences weren't quite ready for gritty war plays having just come through a war themselves. The play closed within a month. Lancaster's performance, however, was favorably noted by the critics and it set him on the path of acting. It was on the basis of his performance in this play that Lancaster went to Hollywood.
Over ten years later, in 1957, Burt starred in a movie that centered around a prison and a story where most of the characters were men (Brute Force). In order to make that movie more appealing to women, they decided to write in episodes involving flashbacks of each man. The flashbacks were about the women who got the men into trouble. Originally, they were going to have the same actress play all the parts. Ava Gardner was tested to play the women. During the test, Gardner and Burt were extremely attracted to each other and had a one night stand. Later, the idea of using one actress to play all the women's parts, was abandoned and Gardner played just one instead of all the women.  Who knows if the one night stand had anything to do with the decision to demote Gardner, but it's interesting to speculate.
Burt would later state that adding the vignettes about the women weakened the script considerably and was a mistake.
In 1952, Stanley Kramer decided to produce a film "Eight Iron Men" based on the play (by Harry Brown) Lancaster had starred in on Broadway. The film was directed by Edward Dmytryk and Lee Marvin played the part Lancaster had played years before. Kramer had gotten a commitment from Burt to play the part he had played on Broadway, but by the time a schooting date was arranged, Burt was involved in another project.  This led Kramer to using virtual unknowns in the movie.
Interestingly, the device of writing in vignettes of the women who lived in the men's fantasies was used in "Eight Iron Men." In this film, they did and did not use the same actress to play all the women's parts. They used women who looked exactly like Rita Hayworth. The women look so much like Rita I thought it was her. I was convinced that IMDB was wrong when it listed other women in the film. 

It's impossible to know, but it's intersting to speculate whether this idea (of using the vignettes and the same woman) came from Lancaster in talks about the film. 
Categories: None