| | |
| --- | --- |
| Posted on June 18, 2019 at 3:45 PM | |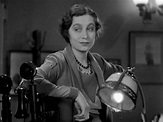 Mary Jane in this film is both the daughter of the two protagonists and their name for a printing press they used to put out a newspaper when they were first married. The printing press saves them and their town at the end of the film.
Guy Kibbe (1882-1956) and Aline MacMahon (1899-1991) play the two leads. Married with two daughters, Kibbe gets wanderlust and leaves. He stays gone so long his wife, MacMahon, is almost convinced he's dead, and she is about ready to marry the town smooth character who is also running for political office.
That she is editor of the town newspaper comes in more than a little bit handy to this smooth operator with designs on political office and MacMahon.
Kibbe, after finding his wife and daughters in another town, tries to develop a relationship, but the closest he can get is to work as a housekeeper for them. He agrees to do so, and finds out that the prospective husband is a no good. He, of course, saves the day and the marriage.
The film is based on a novel by Norman Way and a play by Edith Ellis Furness. It's not the best film you've ever seen, but it's entertaining enough.
There are some truly obnoxious minor actors like the little girl who plays Kibbe's youngest daughter (Betty Jean Hainey) whose voice is grating to say the least. There is also the cartoonish love interest of Kibe's older daughter (Tom Brown), but all in all it's worth watching.
It's typical American fare – honest and loveable newspaperman and his strong wife save local community and their marriage from dishonest politician. Would that it worked the same way now.
Kibbe and MacMahon acted together in ten films. The two became such a familiar and lovebale couple to theatre audiences, they were billed "those loveable screenmates" in the trailer for this film. They were such a familiar and respected couple on stage they played the Babbits in the 1934 version of Sinclair Lewis' Babbitt.
MacMahon was nominated for an Academy Award nine years later for her supporting role in Dragon Seed (1944) with Katharine Hepburn. She went back and forth between the screen and the stage for her entire career. She played some serious theatre roles even though she was best known for wisecracking women in films. She was extremely versatile, playing in dramas and comedies.
Categories: None