| | |
| --- | --- |
| Posted on June 6, 2019 at 5:20 PM | |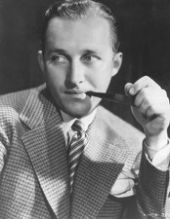 MAN ON FRE (1957)
 
A wealthy businessman, Earl Carleton (Bing Crosby), is bitter about a divorce and tries to keep his son from having a relationship with his former wife (May Fickett). The two parents, with assistance from the wife's new husband () and Crosby's law team (E. G. Marshall and Inger Stevens) fight it out and in typical Hollywood fashion everybody ends up happy.
 
This is the first film where the studio didn't feel like it had to have Cosby sing at least one song to please his audience. Crosby was at this time and had been for decades an important popular singer. He was one of the top selling recording artists of all time. Crosby did finally end up, under protest, singing the theme song to the film – a strange choice since the lyrics are about a man in love being a man on fire. The script, however, is not about a man in love unless you interpret it to mean that he's in love with his son.
 
Man on Fire is also one of the few serious dramatic roles played by Crosby in his career. Before this role, Crosby had played a correspondent searching or his son believed to have been killed in WWII (Little Boy Lost, 1953) and in 1954, a recovering alcoholic stage actor (Country Girl). Even in these films, he performed at least one song.
 
To Crosby's credit, he insisted on leaving in the hard edges of his character even though it made him somewhat unpleasant and unsympathetic. Bosley Crowther of the New York Times said that it was a "difficult and unattractive role." He described Crosby's character as "a stubborn, self-pitying father who tries to monopolize his young son." But "Variety" called it an "appealing and sensitive performance."
 
The movie was not a hit at the box office, and it's not difficult to understand why. There are few appealing characters in the film. The supporting characters of the lawyer, E. G. Marshall, and the lawyer's assistant, Inger Stevens, come as close as you're going to get. And, it's not the type of role people expected from Bing Crosby. And, the studio made a decision to use two stage actresses for the major female roles (Inger Stevens and Mary Fickett). This was the first film for both.
 
The screenplay (written by the director, Ranald MacDougall) was based on a story which was dramatized on television in a 1955 episode of "The Alcoa Hour." It probably would have worked better as a shorter piece. It's hard to watch 90 minutes of people arguing over a custody dispute. But, the film brought Crosby some of the best reviews of his career.
 
At the beginning of filming, Stevens had an appendicitis attack. Crosby took to visiting her in the hospital and the two developed a close relationship. This eventually turned into an affair during the production. Crosby had also had an affair with Grace Kelly while he was filming with her. And, he was also (unbeknownst to Stevens) involved with a young starlet, Kathryn Grant, during the filming of "Man on Fire." Crosby was 33 years older than Stevens.
 
Stevens was just out of a marriage to her agent, reportedly an abusive and intensely jealous man. She also had a habit of having relationships with people she worked with.
 
Stevens evidently wanted to be the second Mr. Crosby, but she wasn't willing to convert to Catholicism for Crosby. Sometime after the filming of "Man on Fire" Stevens accepted a proposal from Crosby that she redecorate his home. She, it is said, assumed that he asked her because she would be living there as his next wife. But, while she was doing the redecorating, she found out that Crosby had married Grant.
 
Not long after, (January 1959) Stevens made another suicide attempt. She later died in 1970 from an overdose of alcohol and pills.
 
Crosby was left with four sons after his first wife died in 1952. Two of those sons reportedly committed suicide. One of those sons wrote a memoir "Going My Own Way," in which he accuses Crosby of physical and psychological abuse. Grant wrote several books about her life with Bing.
 
For a detailed discussion of 'stevens' career see
 
http://www.classicimages.com/people/article_1e7f82c6-bac3-57e9-a1bb-2d301aee1af7.html
 
Books about Bing Crosby
 
Giddins, Gary (2018) Bing Crosby: Swinging on a Star: the War Years, 940-1946.
Giddins, Gary (2002) BingCrosby: A Pocketful of Dreams – The early Years, 1903-1940.
Bing Crosby, Pete Martin, et. Al. (2001) Call Me Lucky: Bing Crosby's Own Story.
Crosby, Kathryn (2002) My Last years with Bing.
Prigozy, Ruth (2007) Going My Way: Bing Crosby and American Culture.
 
Categories: None