| | |
| --- | --- |
| Posted on June 3, 2019 at 2:20 PM | |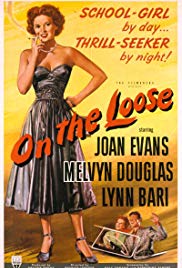 On the Loose (1951)
 
I don't know that Melvyn Douglas hated making this movie, but I can imagine that he did. It is just such a terrible script (based on a story by Malvin Wald and Collier Young). It may be that the theme just seems so hackneyed now that it's impossible to watch it without seeing the obvious direction of the story a mile ahead. But, Melvyn Douglas made a lot of movies, good movies and I can't help but wonder what he thought about this one.
 
Added to the pretty dreadful script is the directing that has Lynn Bari playing the mother in unrelenting obnoxiousness. Fortunately, Douglas' character, the father, at least gets some sympathetic lines. I don't think Bari has any. And, Douglas uses the opportunity of a section of the film where he takes his daughter out dancing to introduce the charm of his natural character. I almost fell in love with him during these scenes where he dances with his daughter.
 
Interestingly enough, this film was produced by Ida Lupino's production company. While knows for social commentary productions, all the films made by this production company stand up well even decades later. This one doesn't. There is such an obvious and simplistic "blame it on selfish parents" theme that it is facile.
 
It's the same problem four years later in "Rebel Without a Cause." I suppose at the time, the theme of the film was ground breaking, but much like "Rebel" I find the young people in the film whiny, self-indulgent and unsympathetic.
 
And, it is yet another of the "cautionary tales" for women movies. The message distinctly sent is that if you play fast and loose with boys, your reputation will be affected, and polite society will shun you. It doesn't matter if you're guilty or innocent, ignore the rules at your own peril. Even if it's all the fault of your parents, you might have to leave town if you (as in this film) date a lot of boys and have too much, even platonic, fun with them.
 
It also makes clear that boys will not respect you if you go places with them where there are no adults to chaperone. It's the "they won't respect you in the morning" lesson. The teenage girl goes to a boy's house and makes it clear that she's willing to be sexually available, but when she starts to talk about marriage and children, it turns him off. But, even so, it doesn't stop him from parroting his MOTHER'S admonition that you can't trust a girl who would come to the house anyway. You can't even trust her to wait for you if you go to war (as he explains) because a girl like her would be dating other boys when he was away.
 
Another thing that makes this film hackneyed and unsatisfying is the ending. Both parents (who were horrors during most of the film) suddenly become thoughtful and loving at the end, surrounded by the wider community who gather to give her a party.
 
As Leonard Maltin writes of, "On the Loose:" "Pretty awful, but intriguing as a relic of its era."
 
Note: Joan Evans was the daughter of two Hollywood writers. They named her after her god mother, Joan Crawford. When Evans was 17, she announced that she was going to marry a car salesman. Her parents asked Joan as her god mother to use her influence to try to stop it. Joan not only didn't condemn the union, she blessed it and arranged to have the wedding in her house without the parents. Isn't Joan Crawford just preposterous?
 
Categories: None