| | |
| --- | --- |
| Posted on May 26, 2019 at 1:25 PM | |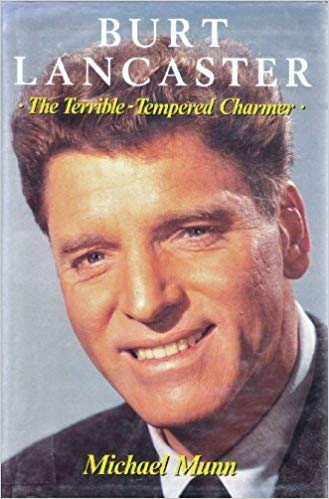 Burt Lancaster
 
Fortunately, we have a lot of movies to choose from. Burt Lancaster made eighty movies. Of course, not all of them are based on novels. But many of them are. This is what I have come up with so far.
(1999) Luchino Visconti (documentary, himself)
(1996) The Island of Dr. Moreau
(1989) Field of Dreams (W.P. Kinsella "Shoeless Joe"
(1988) Rocket Gibraltar
(1988) The Jeweller's Shop
(1987) Control -
(1986) Tough Guys
(1985) Kiss of the Spider Woman -?
(1985) Little Treasure
(1983) Local Hero (Bill Forsyth)
(1983) The Osterman Weekend
(1981) Cattle Annie and Little Britches
(1981) The Skin
(1980) Atlantic City
(1979) Zulu Dawn
(1978) Go Tell the Spartans -
(1977) Twilight's Last Gleaming
(1977) Exploring the Unknown (documentary)
(1976) The Cassandra Crossing
(1976) Buffalo Bill and the Indians (small part)
(1976) 1900?
(1974) The Fighters –
(1974) Conversation Piece
(1974) The Midnight Man (novel by David Anthony, Lancaster writing credit, directed)
(1973) Executive Action
(1973) Scorpio -
(1972) Ulzana's Raid
(1971) Valdez is Coming (novel by Elmore Leonard)
(1971) Lawman
(1970) Airport
(1970) King: A Filmed Record (himself)
(1969) The Gypsy Months
(1969) Castle Kep
(1968) The Swimmer (Story by John Cheever)
(1968) The City of Gods
(1968) The Scalphunters
(1966) The Professionals (Novel by Frank O'Rourke, screenplay by Richard Brooks)
(1965) The Hallelujah Trail
(1964) The Train (French screenplay)
(1964) Seven Days in May (Fletcher Knebel, Charles W. Bailey II, novel, screenplay by Rod Serling)
(1963) The Leopard (novel by Guisseppe Tomasi di Lampedusa, on audible)
(1963) The List of Adrian Messenger
(1963) A Child is Waiting -
(1962) Birdman of Alcatraz (Novel by Thomas E. Gaddis)
(1961) The Young Savages
(1961) Judgment at Nuremberg (story by Abby Mann, later stage play, amazon, audible)
(1960) The Unforgiven (directed by John Huston, novel by Alan LeMay)
(1960) Elmer Gantry (Sinclair Lewis)
(1959) The Devil's Disciple
(1959) Take a Giant Step
(1958) Run Silent Run Deep
(1958) Separate Tables – (play by Terence Rattigan who wrote the screenplay with John Gay).
(1957) Gunfight at the O.K. Corral (screenplay by Leon Uris, lots of non-fiction books about this fight).
(1957) Sweet Smell of Success (novel by Ernest Lehman, screenplay by Lehman and Cifford Odets)
(1957) The Bachelor Party
(1956) Trazeze
(1956) The Rainmaker (play by N. Richard Nash)
(1955) The Rose Tattoo (Screenplay and play by Tennessee Williams)
(1955) Marty (Produced)
(1955) The Kentuckian (novel by Felix Holt, directed)
(1954) Apache
(1954) His Majesty O'Keefe (uncredited directing novel by Lawrence Klingman and Gerald Green)
(1954) Very Cruz
(1953) From Here to Eternity (NOVEL by james Jones)
(1953) South Sea Woman
(1953) Three Sailors and a Girl
(1952) The Crimson Pirate
(1952) Come Back, Little Sheba (play by William Inge)
(1951) Jim Thorpe – All American
(1951) Vengeance Valley
(1951) Ten Tall Man -
(1950) Mister 880
(1950) The Flame and the Arrow -
(1949) Criss Cross (novel by Don Tracy)
(1949) Rope of Sand
(1948) All MY Sons (Arthur Miller play)
(1948) Sorry, Wrong Number -
(1948) Kiss the Blood Off My Hands
(1947) Brute Force
(1947) Desert Fury –
(1947) Variety Girl –
(1947) I Walk Alone -
(1946) The Killers (Story by Ernest Hemingway)
Categories: None